Turtle-Topped First Birthday Cake
Slow and Steady Wins Your Heart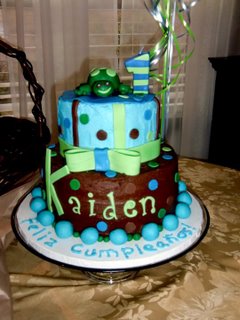 This turtle-topped first birthday cake was made for my little nephew who loves turtles. There was a big party planned so I made a two-tier cake (an 8-inch and a 6-inch) to make sure there were enough servings for everyone.


The bottom tier was a chocolate cake with raspberry mousse filling and chocolate buttercream icing. The top tier was a white cake with raspberry mousse filling and vanilla buttercream icing.


The color combination of blues and browns has been very popular lately. I decided to base the cake around those colors (especially since the birthday cake was brown chocolate). I thought green would also look nice with this color combination, so I decided to make the turtle green to be more natural looking.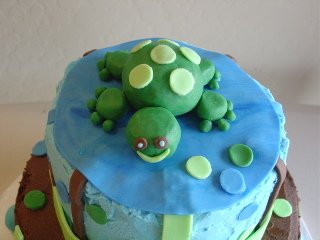 I like the look of stripes and polka dots, so that was my decoration. The turtle is made out of modeling chocolate so it would taste good to eat. All the embellishments, including bows, polka dots, balls and letters are also made out of modeling chocolate, although fondant could be used as well. If given the choice, I will used modeling chocolate because it tastes edible.
---


Go to First Birthday Cake Designs

Go to Home Page